Meritage Dhaka Buffet Menu and Price
Last Updated on September 4, 2023
Meritage Dhaka Buffet Restaurant
Meritage Dhaka is a premier buffet restaurant located in Dhanmondi which the heart of Dhaka, Bangladesh. This exquisite dining establishment offers a delightful and diverse culinary experience for discerning food enthusiasts. The restaurant has started it operation on 16 March 2022.
Upon entering Meritage Dhaka, guests are welcomed into an elegant and tastefully designed space. The restaurant exudes a sophisticated ambiance with its stylish decor and comfortable seating arrangements. Whether you're looking to enjoy a meal with family, celebrate a special occasion, or host a business gathering, Meritage Dhaka provides a refined and inviting atmosphere.
The buffet spread at Meritage Dhaka is a gastronomic delight, showcasing a wide array of delectable dishes from both local and international cuisines. From the moment you step up to the buffet tables, you'll be greeted with a mouthwatering selection of appetizers, main courses, and desserts, meticulously crafted by the talented culinary team.
Kickstart your culinary journey with an assortment of tantalizing appetizers, including crispy samosas, flavorful kebabs, and fresh salads bursting with vibrant flavors. As you move on to the main course, you'll be presented with a diverse range of options, catering to both vegetarian and non-vegetarian preferences. From aromatic biryanis and rich curries to succulent grilled meats, seafood delicacies, and expertly prepared vegetable dishes, every palate is catered to with finesse.
One of the highlights of Meritage Dhaka is the live cooking stations, where skilled chefs prepare made-to-order dishes right in front of your eyes. Watch as your customized stir-fries, sizzling grilled meats, or fresh pasta creations are cooked to perfection, adding an interactive and personalized touch to your dining experience.
No meal is complete without indulging in a delectable array of desserts, and Meritage Dhaka does not disappoint. The dessert section offers a tempting selection of cakes, pastries, traditional sweets, creamy ice creams, and fresh seasonal fruits. Treat your sweet tooth to a variety of flavors and textures, ensuring a delightful and satisfying end to your culinary journey.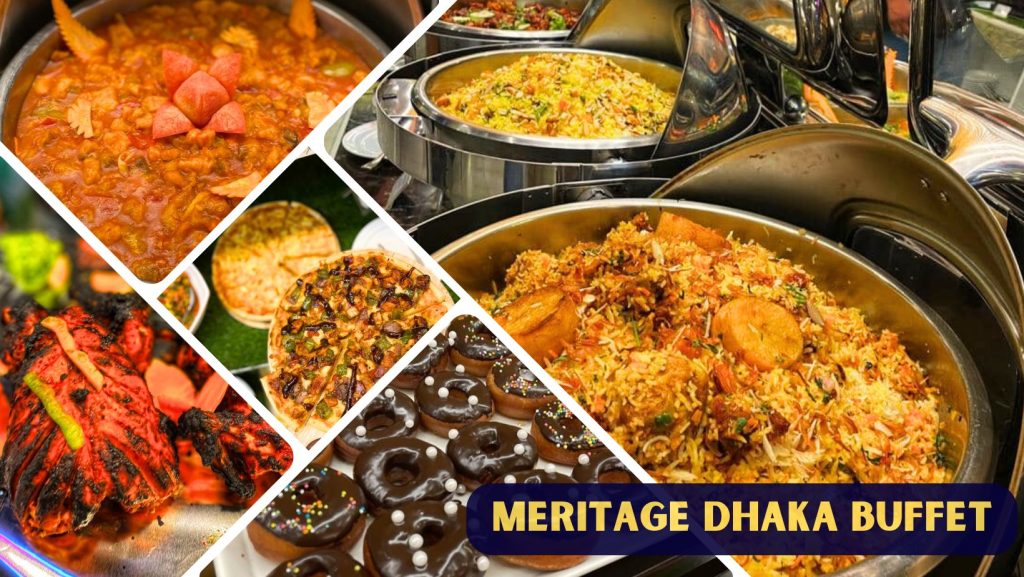 Meritage Dhaka BuffetMeritage Dhaka Buffet
The service at Meritage Dhaka is impeccable, with a team of attentive and friendly staff members dedicated to ensuring your dining experience is nothing short of exceptional. They are always on hand to replenish dishes, provide recommendations, and cater to your specific requests, ensuring that every aspect of your visit is met with utmost care and attention.
Meritage Dhaka is a buffet restaurant that offers a sophisticated and indulgent dining experience. With its elegant ambiance, diverse culinary offerings, and impeccable service, it stands as a premier destination for those seeking a memorable and satisfying meal in Dhaka. Whether you're a local resident or a visitor exploring the city, Meritage Dhaka is a must-visit establishment for a truly remarkable dining experience.
Buffet Price
Lunch Buffet: 100+ food items at BDT 850.
Dinner Buffet: 110+ food items at BDT 899.
Child Policy: 0-3 Years is Free, 3-6 Years at Half Price.
Meritage Dhaka Buffet Menu of Lunch and Dinner has given below. For full menu, see the menu card which is given below.
Menu
Beef Chui Jhal (Daily)
Mutton Kachchi (Daily Dinner)
Chicken Hyderabadi Biryani (Daily)
Laitta Fish Fry (Daily)
Mutton Rogan Josh (Sunday To Thursday Lunch)
Mutton Liver Masala (Daily)
Mutton Dal (Daily)
Chicken Reshmi Kebab (Daily)
Whole Fish Bar B Q (Daily Dinner)
Whole Grilled Chicken (Sunday To Thursday Dinner)
Kabuli Polau (Daily Dinner)
Khude Rice
Unlimited Ice Cream (Sunday To Thursday Lunch)
Fried Rice
Bangkok Fried Chicken
Sweet And Chili Chicken
Chicken Sizzling
Prawn Garlic Mushroom (Sunday To Thursday Dinner)
Hakka Noodles
Korean Style Seafood Noodles
Sisuan Crab
Dory Fees
Chicken Chinese Vegetables
Sautéed Vegetables
Cream Of Mushroom Soup
Sea Food Soup
Thai Soup
Bar B Q Pizza
Chicken Meatbox
Chicken Lasagna
Alfredo Pasta
Naga Wings / Bar B Q Lollipop
2-3 Types Of Sushi
Doi Fuchka
Papri Chat
Live Waffles
Cheese Cake
Whole Cake
Black Forest Cake
Chocolate Pastry
Vanilla Pastry
Mango Pastry
Kunafa
Shahi Piece
Chocolate Moose
Profit Roll
Jorda / Gulab Jamun
Busbusa
Milk Karot
Chocolate Penna Cotta
Jelly
Arabian Luqaimat
Live Salad Bar
Tea, Coffee Also Many More Items.
Lunch Buffet Menu Card
Dinner Buffet Menu Card
Address and Contact Number
Contact Number
Call following mobile phone number for booking or reservation.
+88001947098960
+8801947098961
+8801947098962
Address
Gawsia Twin Peak, 7th Floor (Lift 7), Dhanmondi 9/A,
42-43 Satmasjid Road, Dhanmondi, Dhaka-1209