PizzaBurg Menu, Price and Outlet Address
Last Updated on September 13, 2023
PizzaBurg is one of Dhaka's affordable and popular pizza destinations, celebrated not only for its culinary masterpieces but also for its commitment to authentic flavors and top-notch ingredients. Nestled in the heart of Dhaka, PizzaBurg has been serving locals and visitors alike, ensuring each slice captures the essence of classic Italian pizza with a unique Bangladeshi twist.
Amidst Dhaka's bustling streets and vibrant neighborhoods, the capital city is renowned for its rich history and contemporary flair, one name stands out when it comes to the gastronomic experience of pizza – PizzaBurg. PizzaBurg isn't just another eatery; it is a testament to Dhaka's evolving culinary scene, blending traditional Italian techniques with the heart and soul of Bangladeshi hospitality.
Established with a simple vision of offering authentic pizza experiences without the hefty price tag, PizzaBurg rapidly rose to prominence. It resonated with Dhaka's diverse populace, from college students looking for a quick bite after classes to families celebrating milestones over a hearty meal. Their reasonable prices do not compromise on quality as we expected. Every ingredient is meticulously chosen, and every pizza crafted is a reflection of the brand's dedication to flavor, freshness, and authenticity.
While many establishments struggle to maintain consistency across multiple outlets, PizzaBurg thrives. Its numerous outlets sprinkled across Dhaka.
In the age of digital connectivity, PizzaBurg hasn't shied away from innovation. Recognizing the growing demand for online food delivery and the convenience it offers, they've seamlessly integrated online ordering facilities. So, whether you're in the mood for a cozy dine-in experience amidst the chic interiors of their outlets or prefer to enjoy their delectable offerings in the comfort of your home, PizzaBurg has got you covered.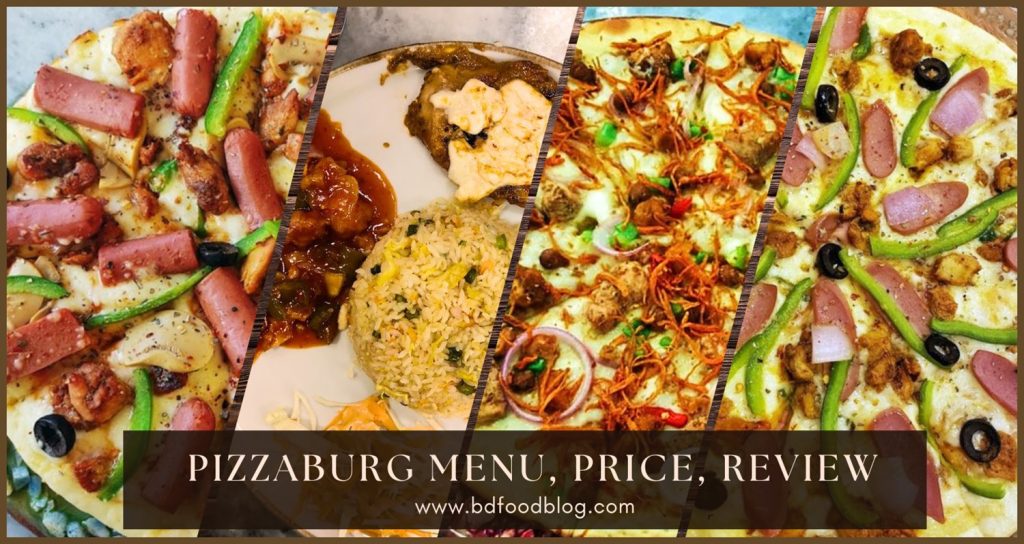 Features of PizzaBurg:
Affordability: One of the core pillars of PizzabBurg's success is its affordability. They've skillfully curated a menu that doesn't burn a hole in the pocket but is rich in taste and quality.
Multiple Outlets: With numerous outlets spread across Dhaka, pizza enthusiasts are never too far from their favorite PizzaBurg slice, making it accessible and convenient for everyone.
Online and Dine-in Facility: Catering to both traditional diners and the tech-savvy generation, PizzaBurg offers a seamless experience whether you choose to dine in at their beautifully designed outlets or order online for a relaxed meal at home.
Innovative Menu: While rooted in traditional Italian techniques, PizzaBurg isn't afraid to innovate, often introducing unique toppings and combinations that cater to the local palate.
Overall, PizzaBurg isn't just a pizza place; it's a culinary institution in Dhaka that has successfully woven itself into the fabric of the city's food culture. Whether you're a local or a visitor, a meal at PizzaBurg is an experience that shouldn't be missed.
Popular Pizza
PizzaBurg offers a selection of popular pizza items, with a few highlighted below.
BBQ Meaty Machine Pizza
Featuring a medley of toppings, this pizza is adorned with chicken, beef, crumbled BBQ beef pepperoni, imported BBQ sausage, onions, mozzarella cheese from abroad, bell peppers, black olives, green chilies, all atop a marinara sauce infused with BBQ flavor.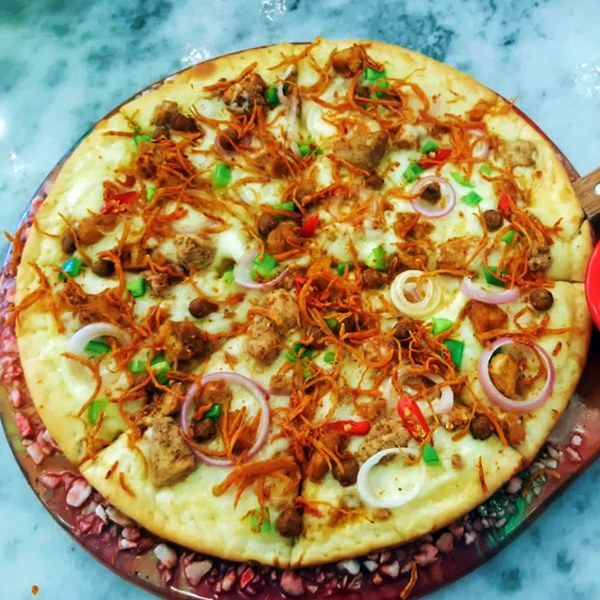 Meaty Onion Pizza
A savory onion pizza featuring a robust combination of ingredients, including freshly baked dough, sausage, diced chicken, homemade marinara sauce, mozzarella cheese, bell peppers, onions, and a sprinkle of dried oregano and parsley.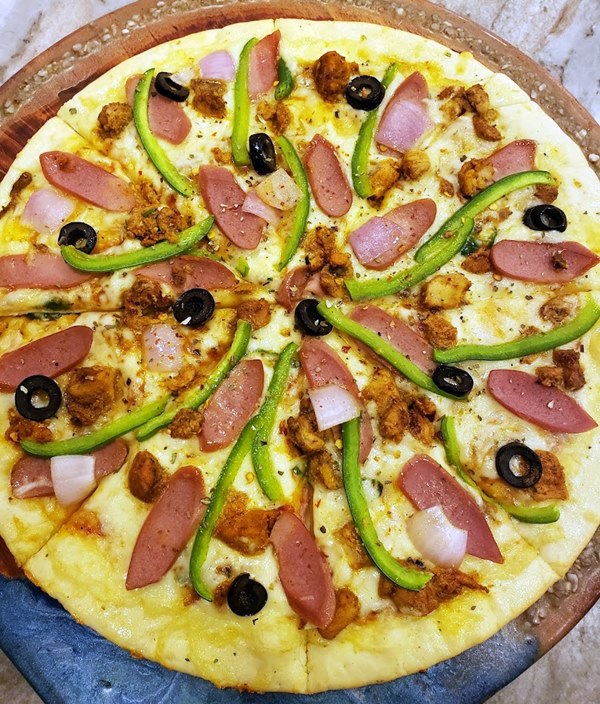 Sausage Carnival Pizza
A recently baked crust adorned with a savory assortment of ingredients: sausage, mushrooms, marinara sauce, chicken, bell peppers, black olives, and a finishing touch of fresh oregano and parsley.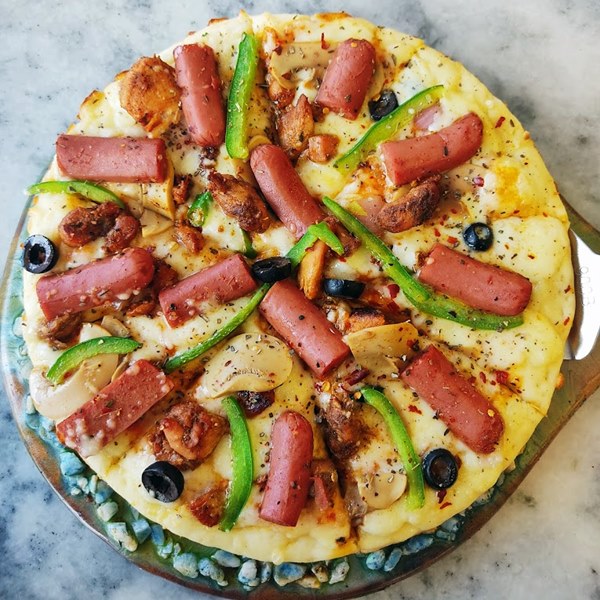 PizzaBurg Menu and Price
Menu

Below is the menu with prices for all PizzaBurg outlets. Please note that the prices listed do not include VAT and SD.
TOPPING
Small
Medium
Large
Family
BBQ Meal Machine
( Beef and Chicken)
315
410
605
1015
Kebab Cocktail
(Five types of chickens and Kebab spice)
325
445
635
1155
Meat Masala
(Lots of Meat and Spice)
315
415
605
1015
Sausage Carnival
(Big & Big sausage, Mushroom and Spice
315
415
605
1015
Meaty Onion
(Meat Sausages, Onion and Spice)
255
375
575
865
Cheese
Small
Medium
Large
Family
Mac and Cheese
(Make with Sausages, Pasta, Chicken, Mixed Cheeses and Corn)
315
435
625
1125
Cheddar Cream
(Salty Taste with Chicken, Cheese and Cult favourite)
275
395
555
925
Cheese Cocktail
( Three types of Cheeses and one topping)
379
489
649
1189
Cheese Fountain
(Mushroom, Cheese and Basil)
255
375
575
865
Mix
Small
Medium
Large
Family
The Everything
(Special Pizza)
N/A
N/A
649
1189
Four Flavour
(Mix of four type pizza)
325
425
615
1095
Tender Beef
(Mashed Beef and Pepperoni)
275
395
555
925
Deep Sea Fantasy
(Deshi Tuna Bhorta, along with Salt Water Shrimp )
295
415
605
1015
| | |
| --- | --- |
| Burger Menu | Price |
| Chicken Cheese Volcano | 285 |
| Beef Cheese Volcano | 305 |
| Chicken Tongue Slayer | 195 |
| Beef Tongue Slayer | 215 |
| BBQ Chicken Burger | 185 |
| BBQ Beef Burger | 205 |
| Beef Juicy Bomb | 195 |
| Chicken Juicy Bomb | 175 |
PizzaBurg Menu Card
Combo Platter
PizzaBurg combo platter for four person.
Price BDT 999.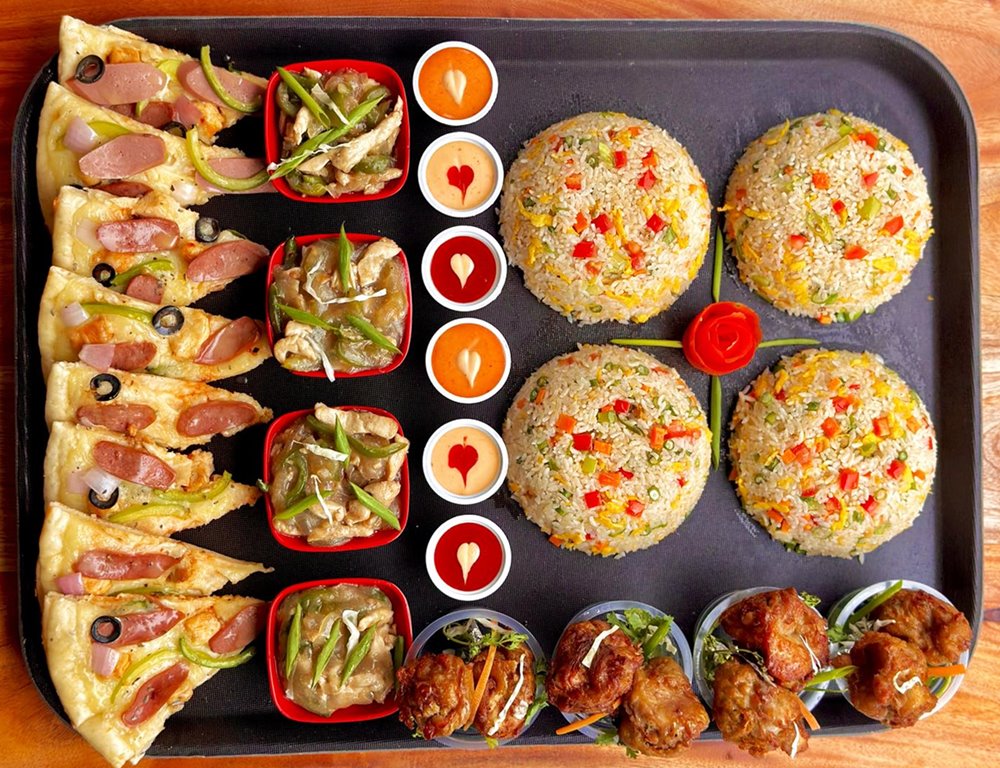 Outlets and Address
Pizzaburg Dhanmondi
754 Satmasjid Road, Dhanmondi, Dhaka
Map Link: https://goo.gl/maps/mkW75d1c94xhr3RE8
PizzaBurg Khilgaon
551/C, Khilgaon, Dhaka
Map Link: https://goo.gl/maps/AUf4efKQSVUNEZfdA
Pizzaburg Banasree
Abdullah Park, House No: 180/6/23/CAD Avenue,
Road No: 14, Block-C, Banasree, Dhaka
Map Link: https://goo.gl/maps/1nNsWuMxJHxRtCur7
Pizzaburg Shyamoli (Only Delivery)
Road No: 4 , House No: Ka-101
Shyamoli, Dhaka

Map: https://goo.gl/maps/ha3vqMfWfz77L6DD9
PizzaBurg Wari
House Number: 02, Road Number: 01,
Nawab St., Dhaka
Map Link: https://goo.gl/maps/hJHHJsphA6jqZr847
PizzaBurg Mirpur
House: 12/1, Block: A, Avenue Road 1, Mirpur Section:2 , Dhaka
Map Link: https://goo.gl/maps/35jiPj2cJMqLvqxh7
PizzaBurg Gulshan
1st Floor, Plot No: 09, Road No: 21,
Gulshan-1, Dhaka
Map Link: https://goo.gl/maps/jJqQSLZY54D5QQtG6
PizzaBurg Bashundhara R/A
9/KA, Hazi Abdul Latif Mansion, Bashundhara Rd
Bashundhara R/A, Dhaka
Map Link: https://goo.gl/maps/rE7zVBEkwTinjG266
PizzaBurg Baily Road
128/1, New Circular Rd, Kazi Office Lane,
Baily Road, Dhaka
Map Link: https://goo.gl/maps/RxDBckWkJYDRjE8n9
PizzaBurg Cloud DOHS
Road Number: 6, House Number: 102,
Lalmati, Dhaka-1216
Map Link: https://goo.gl/maps/gybJZniqLbg56eio9
PizzaBurg Uttara Branch
Plot Number: 41 Gareeb-e-Nawaz Avenue,
Uttara Sector: 11, Dhaka
Map Link: https://goo.gl/maps/n47W7MyLJzgHzbmEA