Chillox Menu, Price and Address
Last Updated on July 10, 2023
Chillox is a burger chain in Bangladesh which is operated since 2016. It has several outlets in Dhaka and Chittagong. Chillox is a popular restaurant chain in Bangladesh, with several locations in Dhaka. The restaurant serves a variety of dishes, including nugget, fish and chips, burgers and many more food items. Some popular menu items at Chillox include chicken naga drum stick, burger and many more.
Chillox Burger and Naga Drum StickChillox Burger and Naga Drum Stick with Nugget
Chillox Menu
Food menu in all branches of Chillox outlets are same. From the blow menu we can find the menu of Chillox Dhanmondi, Chillox Mirpur, Chillox Banani, Chillox Mohakhali, Chillox Khilgaon, Chillox Aftabnagar, Chillox Bashundhara, Chillox Mymensingh and Chillox Chittagong as well as all outlets.
Chillox Burger Price and Menu
Burger
Price
BEEF/CHICKEN BURGER
Beef/Chicken Patty, Special Sauce
180 TK
BEEF/CHICKEN WITH CHEESE
Beef/Chicken Patty, Cheese, Special Sauce
200 TK
BEEF/CHICKEN SMOKY BBQ CHEESE
BBQ Sauce Cooked Beef / Chicken Patty. Cheese
225 TK
BEEF/CHICKEN WITH BACON
Beef/Chicken Patty, Beef Bacon
230 TK
BEEF/CHICKEN WITH SAUSAGE
Beef/Chicken Patty, 2x Chicken Sausage, Cheese
250 TK
DOUBLE DECKER BEEF/CHICKEN
2x Beef/Chicken Patty. 2x Cheese
300 TK
BEEF/CHICKEN CHEESE BLAST *
2x Melted Cheese inside a Double Sized Beef/Chicken Patty & Cheese outside
320 TK
BEEF/CHICKEN SIGNATURE
2x Beef/Chicken Patty. 2x Cheese, Beef/Chicken, Pastrami, Poached Egg
380 TK
GIGANTO BEEF/CHICKEN *
Giant Beef/ Chicken Patty, 2x Cheese, Double Beef Bacon, BBQ Sauce
480 TK
BINGE BEEF/CHICKEN
2x Giant Beef/ Chicken Patty, Smoked Chicken, Chicken Ham, 3x Cheese
680 TK
Chillox Burger Price and Burger Menu
NAGA DRUMS Price
| | |
| --- | --- |
| NAGA DRUMS | Price |
| NAGA DRUMS 1 Pcs | 110 TK |
| NAGA DRUMS 2 Pcs | 215 TK |
Chillox Nagar Drum Price
PANKHA WINGS
PANKHA WINGS 6 PCS
A total of 6 pieces of chicken wings serving. Choose any 3 from 6 flavors
BBQ/ HONEY /CHEESY CREAM /ACHARI /SWEET N' NAGA /SRIRACHA
200 TK
PANKHA WINGS Menu
FISH SECTION
Food Item
Price
FISH TOTS 6 PCS
140 TK
FISH TOTS 12 PCS
270 TK
FISH 'n KRISP
Dory Fish Patty. Tartar Sauce
280 TK
Chillox Fish Items
SHAKES & SOFT DRINKS
| | |
| --- | --- |
| Drinks | Price |
| COLD COFFEE | 140 TK |
| MUNCH | 140 TK |
| OREO | 160 TK |
| NUTEL LA | 170 TK |
| SNICKERS | 170 TK |
| FERRERO ROCHER | 180 TK |
| SOFT DRINKS SMALL | 40 TK |
| SOFT DRINKS LARGE | 55 TK |
| MINERAL WATER (5OOML) | 15 TK |
Chillox SHAKES & SOFT DRINKS Menu
Chillox Menu Card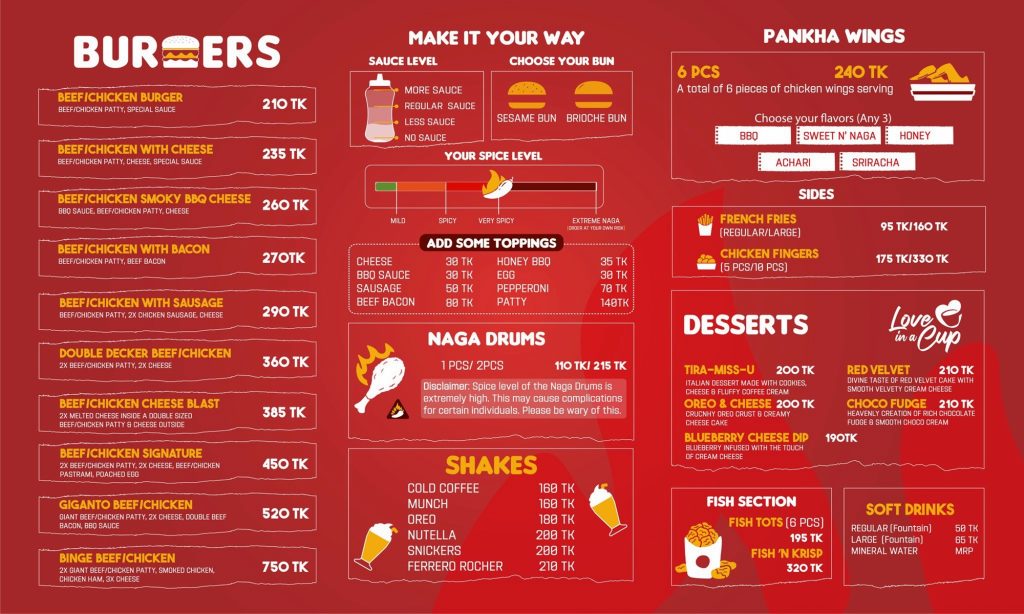 Chillox Restaurant Menu Card (Full)Chillox Menu Card (Full)
View Above Chillox Menu Card in Full Screen
Chillox Branch, Address and Contact Number
Chillaox in Dhaka
Chillox Dhanmondi
Level – 3, AMM Center, 56/A Rd 3A,
Dhanmondi, Dhaka 1209
Phone: 09678-361361
Google Map: https://goo.gl/maps/786vyJExiYwDaaPq9
Chillox Banani
2nd Floor, Ahmed Tower
Kemal Ataturk Avenue, Banani,
Dhaka- 1213 Bangladesh
Phone: 09678-361361
Google Map: https://goo.gl/maps/xagKVEFcib5aVYNZ9
Chillox Bashundhara R/A
2nd Floor, Ka-11
Bashundhara Rd, Dhaka 1229
Chillox Khilgaon
1st Floor, 397/B Khilgaon,
Shahid Baki Rd, Dhaka 1219
Google Map: https://goo.gl/maps/gcUn9Q1Tgr7mrcMU7
Chillox Aftabnagar
Aftabnagar Main Road
Near EWU, Aftabnagar
Dhaka 1212
Google Map: https://goo.gl/maps/3tVRPHQYpXr5HDkE7
Chillox Mirpur
3rd Floor, Mirpur TFC,
Mirpur New Market, Dhaka 1216
Google Map: https://goo.gl/maps/Vssa5k6jpspxbBZt5
Chillox Mohakhali
43, Bir Uttam AK Khandakar Road,
Mohakhali, Dhaka-1209
Phone Number: +8801743-109911
Google Map: https://goo.gl/maps/tdywQUTdJGCnQRob8
Chillox Uttara
2nd Floor, 10 Sonargaon Janapath,
Uttara, Dhaka 1230
Google Map: https://goo.gl/maps/CaTTHbwks7sqYDyn6
Chillox Mymensingh
2nd Floor, The Food Company, Ferdous Tower,
29/A Shema Choron Rai Rd, Mymensingh 2200
Phone Number: 01844652417
Google Map: https://goo.gl/maps/DNLgmoMwoFJTgoue8
Chillox Chittagong (Nasirabad)
2nd Floor, 94, Eves Center,
Nasirabad Housing Society, Rd No-3,
Chattogram 4203
Google Map: https://g.page/chillox-nasirabad?share
Reasons Behind the Popularity of Spicy Fried Chicken
The spicy chicken fry is a beloved dish in Dhaka, and it is often enjoyed as a snack or a main course. The dish typically consists of chicken pieces marinated in a blend of spices such as cumin, coriander, turmeric, and chili powder. The chicken is then coated in a mixture of flour and spices before being fried until golden brown and crispy. The result is a spicy, crunchy, and flavorful dish that is enjoyed by many.
In addition to its delicious taste, spicy chicken fry is also a relatively affordable dish, making it accessible to a wide range of people. It can be found in many street food stalls, local restaurants, and even in some upscale eateries. The dish is often served with a variety of sides, including paratha, a type of flatbread, salad, and chutney, which add even more flavor and texture to the meal.
Finally, the popularity of spicy chicken fry in Dhaka is also influenced by the fact that chicken is one of the most commonly consumed meats in Bangladesh. Poultry farming is a thriving industry in the country, and as a result, chicken is widely available and affordable for consumers. This has made chicken a popular meat choice for many dishes in Bangladesh, including spicy chicken fry.
Overall, the combination of spicy flavors, affordability, and accessibility has made spicy chicken fry a beloved and popular dish in Dhaka, and it remains a staple of Bangladeshi cuisine.