Buffet Stories Dhanmondi Menu, Price, Items and Contact No
The Buffet Stories Dhanmondi 10/A is one of the popular buffet restaurant in Dhaka that offers a wide range of food items in their food menu a moderate price. The restaurant decaled that it offers 100+ items in their lunch buffet menu and 110+ food items in their dinner buffet menu.
One of the reasons of their popularity is the location. The restaurant is situated at 10/A Road in Dhanmondi where already lot of popular buffet and other popular exists such as The Cafe Rio Dhanmondi.
This restaurant offers an all-you-can-eat meal consisting of a variety of dishes. The restaurant usually has a large dining area with a buffet table or stations where customers can serve themselves.
The menu of Buffet Stories Dhanmondi 10/A covers a wide range of appetizers, main courses, desserts and others food items. Appetizers may include salads, soups, and cold cuts, while main courses may feature a selection of meats, seafood, pasta, and vegetables. Desserts may include cakes, pastries, fruits, and ice cream.
Overall, The Buffet Stories Restaurant Dhanmondi can be a great option for those who want to enjoy a variety of dishes in a casual and relaxed atmosphere.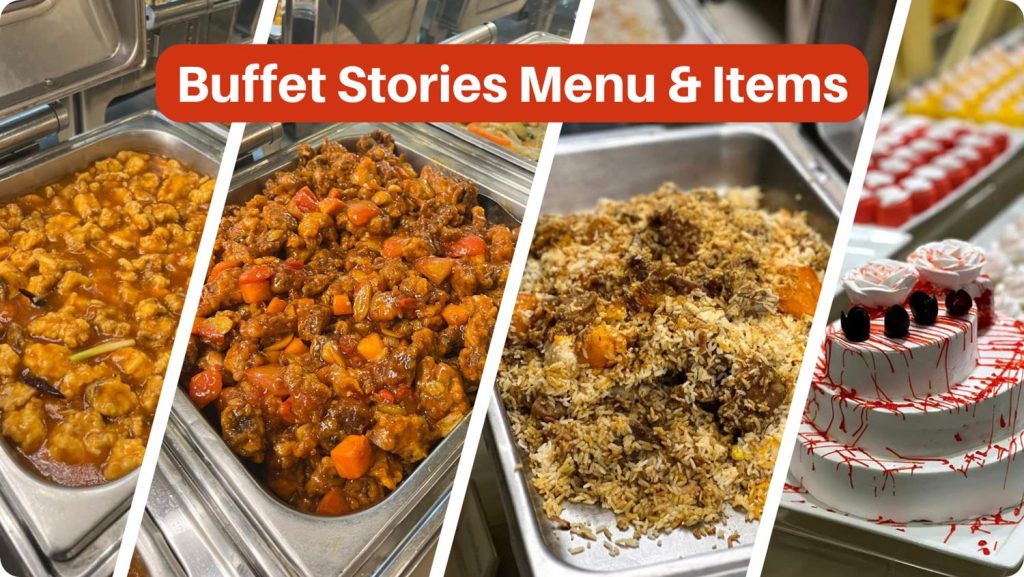 As per update of The Buffet Stories Dhanmondi 10/A in 14th March 2023, they are offering Lunch Buffet of 100+ items at TK 699 per person and Dinner Buffet package of 110+ food items at TK 799 per person.
Discount price of dinner package is at TK 749 per person. This offer is valid for Sunday to Thursday except Friday, Saturday and public holiday.

Only Buffet Lunch and Dinner package is unavailable during the month of Ramadan.
Buffet Iftar + Dinner Price
105+ items Buffet Iftar cum Buffet Dinner price is BDT 999 per person including VAT and Tax.
Buffet Time
Buffet Lunch Hour: 1 PM – 4 PM
Buffet Dinner Hour: 7 PM -10 PM
Iftar Buffet Menu
105+ items Buffet Iftar cum Buffet Dinner Menu.
Iftar Items
Arabian Dates
Fresh papaya
Fresh Pineapple
Fresh Guava
Egg chop
Beguni
Piyaju
Chola Masala
Chana Masala
Muri with Mixed Muri Masala
Jeelapi
Bundia
Orange Mix Juice
SOUP
Thai Soup
Chicken corn Soup
Clear Seafood soup
APPETIZER
Crispy Wanton
Spring Rolls
Vegetables Tempura
French Fries
PIZZA
Sandwiches
Chicken Sandwich
Egg sandwich
Main Dish (Indian)
Mutton Kacchi
Beef Tehari with Mustard oil
Beef Bhuna
Mutton liver Bhuna
Fried Fish
Chicken Kima Motar
Afghan Chicken Biriyani
Chicken Tandoori kebab
Chicken Hariyali Kebab
Butter Naan
Chicken Butter Masala
Steam Rice
Daal Gosto
Motor Polaw
Thai Chinese
Egg Fried Rice
Chowmein
Thai Fried chicken
Fish with Garlic Sauce
Thai mixed Vegetables
Chinese Mix Vegetables
Sizzling Chicken
Sichuan Fish
Crab With BBQ sauce
Chicken chili Onion
Continental
Sauté Vegetables
Italian Pasta
Traditional
Fish Vorta
Kalojera Vorta
Egg Borta
Vandi Vaje
Tomatoes Volta
Borboti Vorta
Begun Vorta
korolla Vaji
Sauce & Dressing
Mint sauce
Tamarind Sauce
Chili Sauce
Tomato sauce
Rio special sauce
Green Sauce
Sweet Chili Sauce
Desserts
3 kinds of Whole Cake
Churros
Chocolate Brownies
Vanilla Pastry
Orange pastry
Gurer Payesh
Shemai
Bread butter pudding
Golap Jamon
Fruits custard
Paana cotta
Chocolate pastry
Rice pudding
SALAD
Russian Salad
Garden Salad
Macaroni Salad
Coleslaw Dalad
Asian Prawn Salad
Beef Salad
Greek salad
Pineapple salad
Guava with Kashondi
Seafood salad
Red-beans salad
Korean Salad
Green salad plater
Vermicelli salad
Artichoke Salad
Chana Salad & more.
Juice & Drinks
Soft Drinks (Pepsi/ Dew/Fanta)
Mineral water
PAAN & MOUTH FRESHENER.
Paan with Paan masala
mouth freshener
The Buffet Stories Dhanmondi 10/A announced through their fan page in several promotional post that they offers more that 100 food items in their lunch buffet menu and more than 110 food items in their dinner buffet menu. You can check their regular official updates regarding price and menu from the link given at the bottom of the page.
Buffet Stories Dhanmondi Buffet Lunch Menu and Buffet Dinner Menu
Most of the items in lunch and dinner menu in Buffet Stories Dhanmondi is quite similar. However, those items are not offered in lunch menu are marked by remarks.
Appetizer Menu
Wonton
Spring Roll
French Fry
Pakora
Main Dish
Fried rice
Steam Rice
Chicken Biriyani
Chow Mein
Pasta
Butter Nan
Chicken Chilli Onion
Beef Chilli Onion
Mixed Vegetable
Thai Fried Chicken
Daal buter Fry
Vegetable Dopiaja
Chicken Tikka Butter Masla
Beef Rezala
Garlic Prawn/Sweet & Sour Prawn
Flaming Chicken
Garlic Nan
Chicken Sizzling
Szechwan Fish
Sautéed Vegetables
Plain Polau
Aloo Dum
Chang masala / Palak Paneer
Mutton Kacchi
2 Types of Sushi (Not Listed in Lunch Menu)
Live Kebab Station
Chicken Tikka Kebab
Chicken Wings
Chicken Saslick
Garlic Crab/Hariyali Kebab/ Chicken Reshmi Kebab
Bun Menu
Soup Menu
Soup Menu
Thai Soup Corn Soup
Vegetable Soup
Salad Menu
Chicken Cashew-Nut Salad
Green Mix Salad
Homemade Salad
Mixed Salad
Coleslaw
Onion Salad
Pasta Salad
Tomato Salad
Apple Cabbage
Raita Salad
Egg salad
Bamboo stick salad
Chinese salad
Chef Special Salad (Not Listed in Lunch Menu)
Condiments Menu
Chilli sauce
Tomato sauce
Garlic sauce
Honey sauce
Green chilli sauce
Mango Pickle
Black Olive
Cucumber
Olive
Green Chilli
Onion
Sushi Sauce (Not Listed in Lunch Menu)
Wasabi (Not Listed in Lunch Menu)
Vorta Menu
Alu Vorta
Kola Vorta
Tomato Vorta
Dim Vorta
Begun Vorta
Dhonia Pata Vorta
Borboti Vorta
Vaji/Shaak
Vendi Vaji
Fruits Menu
Desserts Menu
Shahi Tukra
Bread Roshmalai/ Fruit
Strawberry Tart Kunafa
Chocolate Mousse Gulab Jamun
Chocolate stean Cake/ Brownie
Red Velvet Cake
Cream Caramel / Bread butter pudding
Jello
Fruit custard
Firni /Rice Khir
Vanilla Pastry / Moca Pastry
Turkish Tulumba
Basbousa
Mahlabia / Panakota /Laccha Shemai
Shai Jorda
Sweet Yogurt (Not Listed in Lunch Menu)
Orange Pastry (Not Listed in Lunch Menu)
Panna Cotta (Not Listed in Lunch Menu)
Drinks Menu
Pepsi
Seven Up
Mineral Water
Coffee (Not Listed in Lunch Menu)
Milk Tea (Not Listed in Lunch Menu)
Raw Tea (Not Listed in Lunch Menu)
Buffet Stories Dhanmondi Lunch Buffet Menu Card
Buffet Stories Dhanmondi Dinner Buffet Menu Card
Contact Number
Contact number for reservation:
01309-036858
01323-581350
Address
Lift -06, Imperial Amin Center, House No : 54
Road No:10/A, Satmosjid Road, Dhanmondi, Dhaka