Apon Coffee House Menu and Address
Last Updated on May 1, 2023
Apon Coffee House is one of the most popular Cold Coffee Shop in Dhaka, Bangladesh. It's first branch was established at Khilgaon, Malibagh Chowdhury Para. Now it has another branch in Dhanmondi.

Apon Coffee House in Dhaka is a popular gathering spot for young people, professionals, and artists alike. It is a unique space where people from different backgrounds come together to share ideas, discuss issues, and enjoy a cup of coffee. The coffee house has an important role of making Malibagh Chowdhuri Para popular for food shops. Because, a lot of pope gathered there to enjoy their cold coffee at comparatively cheaper price.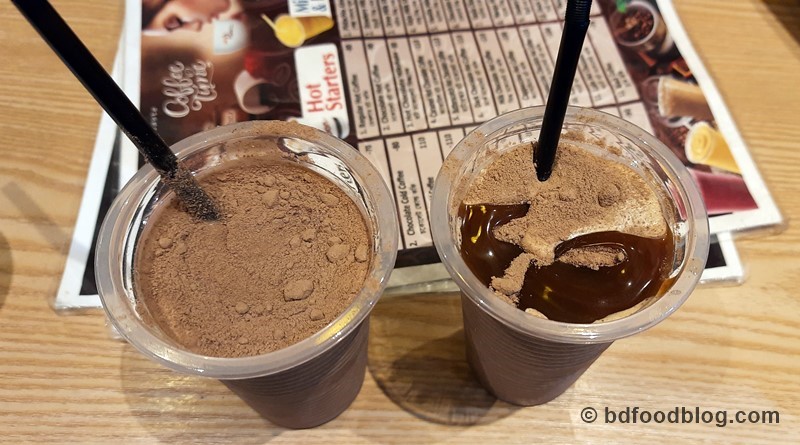 Primarily Apon Coffee House served verities of cold coffee , hot coffee and milk shakes. But, later they adds many more drinks and sacks in their menu.
The menu was captured on 4th August 2022. Apon Coffee House can change the price any time. So, we are requesting the readers to check latest price and menu from the restaurant before placing any order. Menu at Khilgaon and Dhanmondi Outlet is same. So, from the blow image you will get Apon Coffee House Khilgaon Menu, Apon Coffee House Dhanmondi Menu.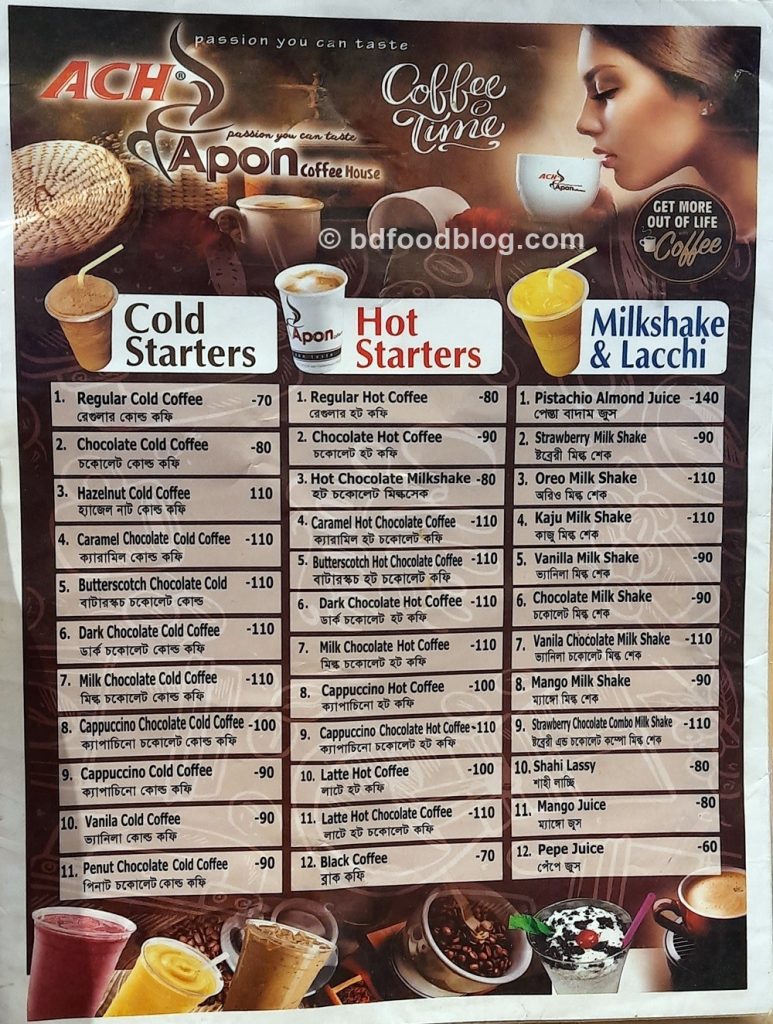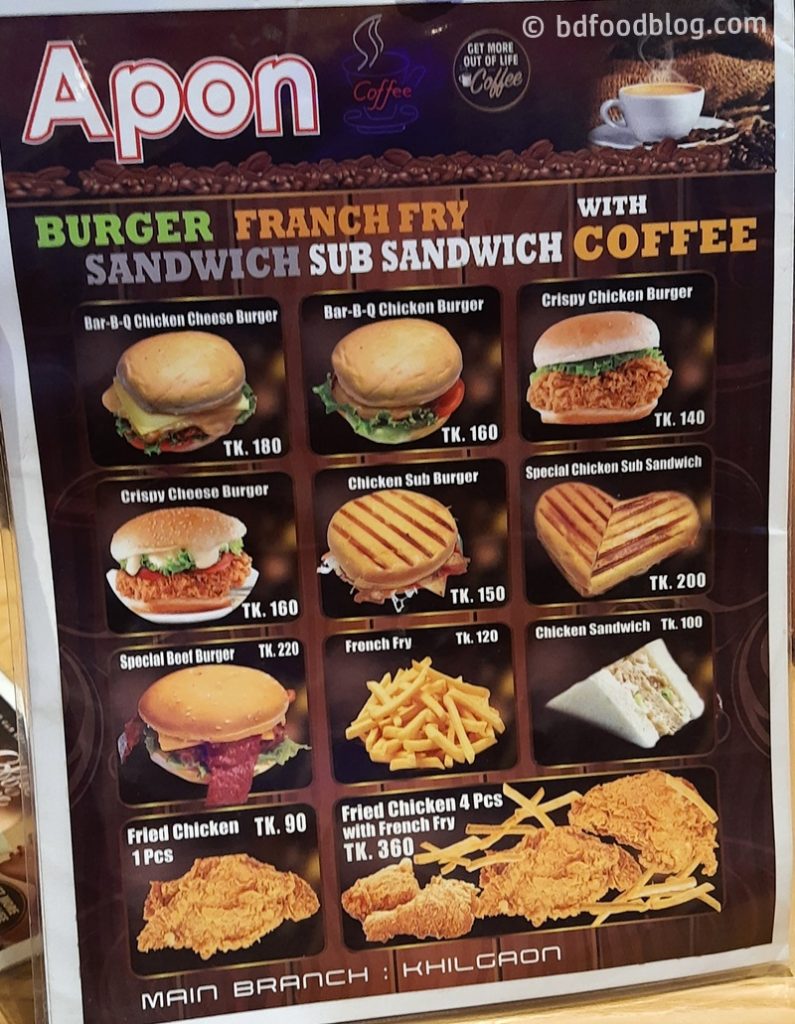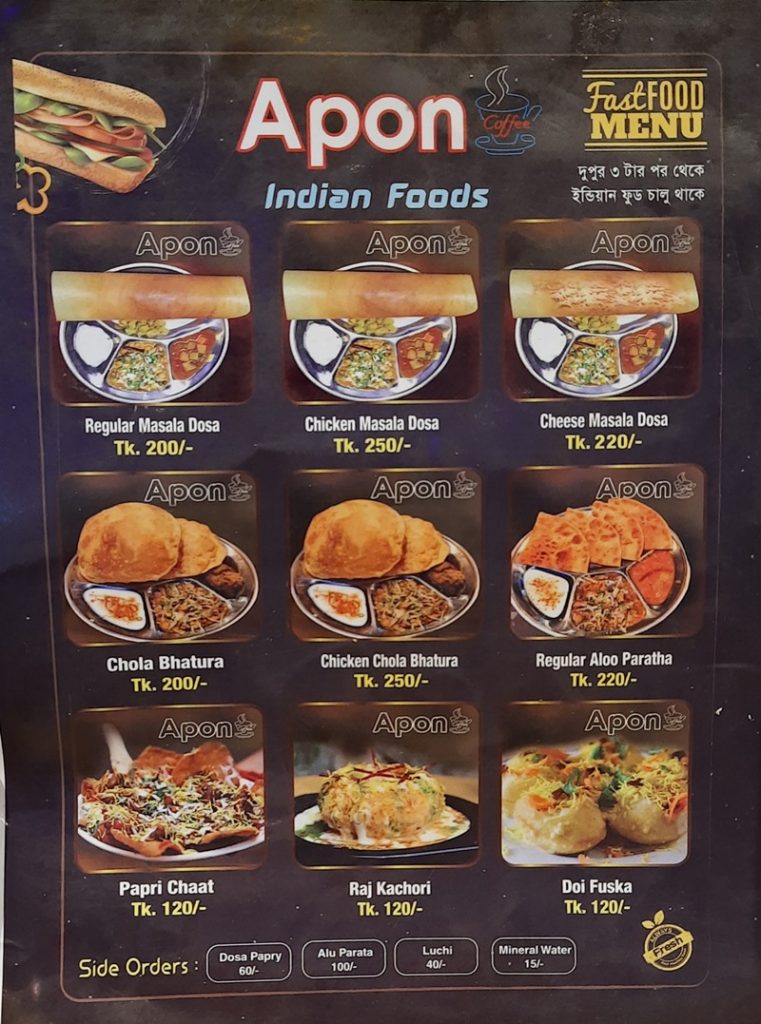 Interior View of Apon Coffee House
Interior view from the Dhanmondi Branch of Apon Coffee House has given in the gallery.
Khilgaon Branch (Main Branch)
381/B Shahid Baki Road,
Taltola Road, Khilgaon, Dhaka 1219
(Near Malibagh Chowdhury Para)
Dhonmondi Branch
Asra Apartments,
Road No 4, Dhanmondi
Dhaka 1205
(Opposite of Labaid Hospital, Dhanmondi)
Chocolate Cold Coffee Recipe
This recipe is not from the Apon Coffee House. A simple recipe of chocolate coffee is described below.
Here's a detailed recipe for chocolate cold coffee:
Ingredients:
1 cup strong coffee, brewed and cooled
1/2 cup milk
1/4 cup chocolate syrup
1-2 tablespoons sugar (optional)
Ice cubes
Whipped cream (optional)
Chocolate shavings or cocoa powder (optional)
Instructions:
Make a potent coffee and allow it to reach room temperature by cooling.
In a blender, combine the coffee, milk, chocolate syrup, and sugar (if using).
Blend everything together until it is smooth and creamy.
Add ice cubes to a glass.
Add the chilled coffee blend on top of the ice.
Top with whipped cream, if desired.
Sprinkle chocolate shavings or cocoa powder on top, if desired.
Serve immediately and enjoy your delicious chocolate cold coffee!
Note: You can adjust the sweetness level of the coffee by adding more or less sugar, depending on your taste preferences. You can also use chocolate milk instead of regular milk for an extra chocolatey flavor. If you want a stronger coffee flavor, use less milk and more coffee.
Health Benefits of Chocolate Cold Coffee
While chocolate cold coffee can be a tasty treat, it is important to remember that it is a beverage that should be consumed in moderation. However, here are a few potential health benefits of some of the ingredients in chocolate cold coffee:
Coffee: Coffee is rich in antioxidants and has been linked to a reduced risk of several diseases, including type 2 diabetes, Parkinson's disease, and liver disease. It may also improve brain function and help with weight loss.

Milk: Milk is a beneficial provider of calcium and vitamin D, both of which are essential for maintaining healthy bones. It also contains protein and other vitamins and minerals.

Dark chocolate: Dark chocolate is rich in flavonoids, which are antioxidants that may help protect against heart disease, lower blood pressure, and improve brain function.
However, it's important to note that the chocolate syrup used in this recipe is typically high in sugar and calories, so it's important to enjoy this beverage in moderation and as part of a balanced diet. Additionally, some people may be sensitive to caffeine and should avoid consuming too much coffee.
Potential Health Issues

While chocolate cold coffee can be a tasty treat, it is important to keep in mind some potential health issues associated with its ingredients:
Sugar: Chocolate syrup and sugar added to the recipe can add significant amounts of added sugar to your diet, which has been linked to obesity, type 2 diabetes, and other health problems. It's important to limit your intake of added sugars and consume them in moderation.

Caffeine: Coffee contains caffeine, which can lead to negative side effects such as insomnia, anxiety, and jitters, especially if consumed in excess. Additionally, people with certain health conditions, such as high blood pressure, should limit their caffeine intake.

Dairy: While dairy can provide beneficial nutrients such as calcium and vitamin D, some people are lactose intolerant and may experience digestive issues after consuming milk-based products.Furthermore, certain individuals may opt to refrain from consuming dairy products due to personal beliefs or ethical considerations.

Calories: Chocolate cold coffee can be high in calories, especially if whipped cream and other toppings are added. Consuming too many calories can lead to weight gain and related health problems such as type 2 diabetes and heart disease.
Overall, while chocolate cold coffee can be enjoyed in moderation as a treat, it's important to be aware of the potential health issues associated with its ingredients and to consume it as part of a balanced diet.