The Pan Pacific Lounge Buffet Menu, Price and Address
Last Updated on September 4, 2023
Indulge in a culinary journey at The Pan Pacific Lounge, where you can immerse yourself in a delightful gastronomic experience. Delight in an extensive international buffet that caters to all your taste buds, offering a wide range of delectable dishes. From the timeless and comforting flavors of lasagna to the tantalizing and bold taste of mini burgers and Mexican tacos, there is something to satisfy every craving you may have. Embark on a flavorful adventure and let your palate explore the diverse and delicious offerings at The Pan Pacific Lounge.
Embark on a journey of luxury and culinary delight as we bring you the exquisite experience of our "5 Star multi-cuisine buffet" in the heart of Dhanmondi 9/A. Immerse yourself in an opulent setting where every detail is meticulously crafted to create an ambiance of elegance and sophistication. Indulge in a feast for the senses as you explore a wide array of gastronomic treasures from around the world, meticulously prepared by our team of talented chefs. From delectable appetizers to sumptuous main courses and irresistible desserts, our buffet offers an unparalleled selection of culinary delights that will leave you craving for more. Immerse yourself in the epitome of luxurious hospitality and treat yourself to an unforgettable dining experience at our esteemed establishment in Dhanmondi 9/A.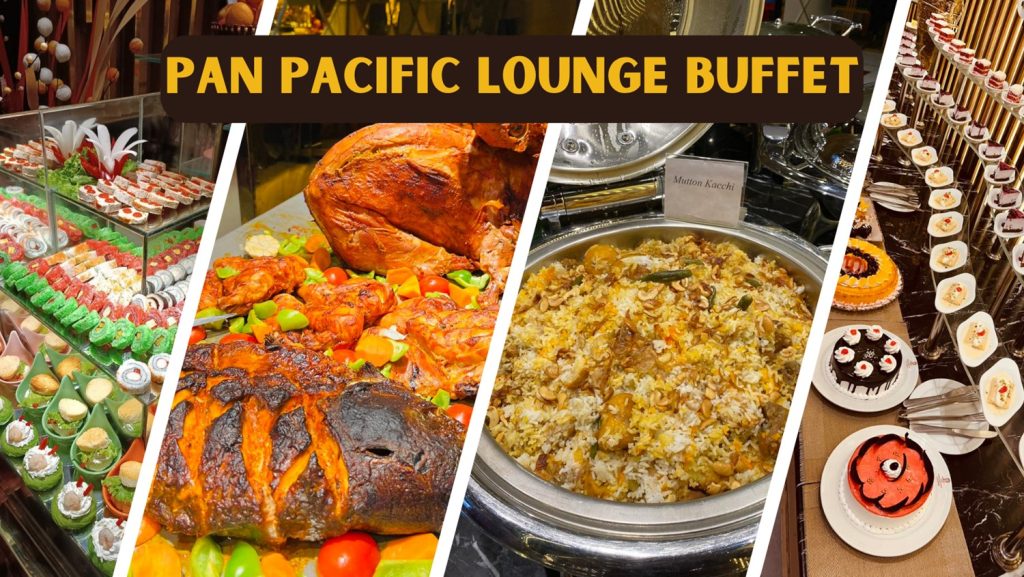 Introducing a first-of-its-kind experience in Dhanmondi, Dhaka, we proudly present our live carving and serving station. Witness the artistry and skill of our expert chefs as they showcase their talent right before your eyes. Marvel at the precision and technique as they skillfully carve and prepare an array of succulent meats and tantalizing dishes, all to be savored at their peak freshness. Immerse yourself in the interactive atmosphere as you engage with our chefs and have your dish customized to your preferences. This unique addition to our dining experience elevates your visit to The Pan Pacific Lounge, creating a memorable and immersive culinary journey that delights all your senses.
Buffet Time
The Pan Pacific Lounge Buffet Hours
Lunch Hour: 1:00 PM to 4:00 PM
Dinner Hour: 7:00 PM to 10:00 PM
Price
Buffet Lunch Price is BDT 1299 including VAT and Tax.
Buffet Dinner Price is BDT 1599 including VAT and Tax.
Child Policy
Child's Age 1-4 years is free.
Child's Age 4-7 years is half price.
Based on the above line from their fan page, there have a confusion on the child having age of 4 years. Request to contact with them for clarification.
Menu
The Pan Pacific Lounge Buffet Menu
The buffet line boasts an extensive selection of delectable dishes from a multitude of culinary traditions. Immerse yourself in a world of flavors as you explore an array of continental delicacies, savor the vibrant spices and aromatic curries of Indian cuisine, or indulge in the harmonious blend of sweet, sour, and spicy flavors found in Thai dishes. Delight in the diverse offerings of Chinese cuisine, from succulent stir-fried creations to delicate dim sum delights. Experience the artistry of Japanese cuisine with fresh sushi and sashimi, or savor the bold and savory flavors of Korean dishes. Explore the rich and diverse culinary traditions of Europe, from Mediterranean delights to hearty classics. With our Pan-Asian focus, the buffet line at The Pan Pacific Lounge ensures that every taste is catered to, offering a vast selection of mouthwatering options that will satisfy even the most discerning palates.
The Pan Pacific Lounge retains the privilege to modify or include additional items as needed.
Live Turkish Manakish
Chicken steak with sautéed mushrooms
Authentic Mutton Biriyani
Chicken 65
Live Mexican Tacos
Live mini cheese burger
Live Dumplings
Live sushi
Live pasta
Live Ramen
Live Waffle
Live salad
Live B.B.Q fish Carving
Live fresh fruit cutting
Unlimited cheesecake
Live B B Q prawn
Live B B Q Octopus
Live B B Q squid
Live B B Q crab
Live B B Q mutton leg carving
Live B B Q chicken
Live mocktail Bar
Unlimited Live softy ice cream
Unlimited Lemon Tea, Milk Tea' Special masala tea
Unlimited Coffee
Unlimited Soft Drinks
Live fresh juice Bar
Besides, The Pan Pacific Lounge's buffet line offers a wide variety of continental, Indian, Thai, Chinese, Japanese, Korean, European, and Pan-Asian cuisines, among others, for you to enjoy.
Contact
Address
Gawsia Twin Peak, 8th Floor
House No:42-43, Road No: 9/A
Satmasjid Road, Dhanmondi, Dhaka
Contact Number
Call for reservation and information
+8801965166118
+880132648 0455