Pizza Hut Menu, Price and Branch Address
Last Updated on July 12, 2023
Pizza Hut is a well-known chain of pizza restaurants that operates globally, including in Bangladesh. Pizza Hut offers a variety of pizza options, as well as side dishes, desserts, and beverages. In Bangladesh, Pizza Hut has multiple locations in major cities, such as Dhaka and Chittagong.
At Pizza Hut Bangladesh, customers can order for dine-in, takeout, or delivery. The menu features classic and specialty pizzas, as well as a variety of crust options and toppings. Pizza Hut also offers meal deals and combo packages, making it a convenient and affordable option for families and groups.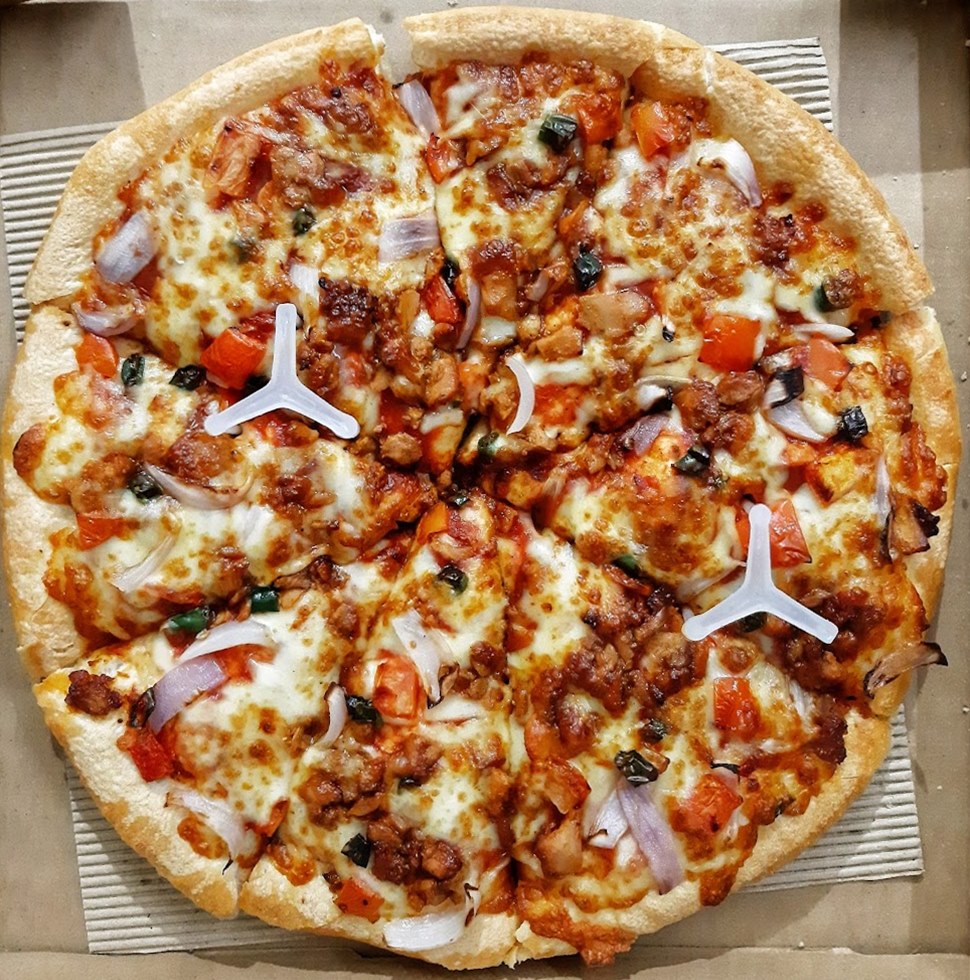 Menu
Pizza Hut is a popular pizza restaurant chain with a menu that offers a variety of pizza options, sides, desserts, and beverages. Here's a general overview of some of the items that you might find on their menu:
Pizzas:
Classic Pizzas: Margherita, Pepperoni, Veggie Lovers, Meat Lovers, etc.
Speciality Pizzas: Supreme, Hawaiian, BBQ Meat Lovers, Buffalo Chicken, etc.
Sides:
Wings: Bone-in, Boneless, in different flavors
Sticks: Garlic, Cheesy, etc.
Pasta: Lasagna, Fettuccine Alfredo, etc.
Salads: Garden, Caesar, etc.
Desserts:
Hershey's Chocolate Chip Cookie
Cinnabon Mini Rolls
Beverages:
Keep in mind that the menu can vary by location and some items may not be available in all regions. You can also check Pizza Hut's official website for a more detailed and up-to-date menu.
CLASSIC Pizza Menu
Pizza
PERSONAL
MEDIUM
FAMILY
CLASSIC MARGHERITA
Tomato, Oregano, Garlic
199
389
719
VEGGIE LOVERS
Capsicum, Onion, Mushroom
209
429
789
CLASSIC BEEF
Beef, Onion, Green Chilli
289
549
889
ULTIMATE HOT CHICKEN
Hot & Spicy Chicken, Onion, Green Chilli
289
549
889
CLASSIC CHICKEN SAUSAGE
Chicken Sausage, Onion, Green Chilli
289
549
889
SPICY BEEF
Beef. Onion, Jalapeno, Red Paprika
349
659
1169
CHICKEN EXOTICA
Lebanese Chicken, Capsicum. Onion, Jalapeno
349
659
1169
VEGGIE SUPREME
Capsicum, Onion, Mushroom, Tomato, Sweet Corn, Black Olive
349
659
1169
DOUBLE CHEESE
Extra Cheese On Cheese
349
659
1169
FAVORITES Pizza Menu
Pizza
PERSONAL
MEDIUM
FAMILY
BBQ CHICKEN
BBQ Chicken, Green Chilli, Sweet Corn
389
749
1319
BEEF LOVERS
Beef, Capsicum, Onion, Black Olive
389
749
1319
SPICY CHICKEN
Lebanese Chicken, Mushroom, Onion, Green Chilli
389
749
1319
BEEF PEPPERONI
Beef Pepperoni, Mozzarella Cheese
389
749
1319
SMOKY GRILLED BUZZ
Smoked Chicken, Mushroom, Onion & Red Paprika
389
749
1319
SPICY KALA BHUNA
Beef Kala Bhuna, Tomato, Onion, Green Chilli
389
749
1319
SUPREMES Pizza Menu
Pizza
PERSONAL
MEDIUM
FAMILY
BBQ BEEF
BBQ Beef, Capsicum, Onion, Green Chilli
439
859
1439
BBQ TEMPTATION
BBQ Chicken, Tomato, Capsicum, Onions, Green Chilli
439
859
1439
RED N HOT
Beef, Spicy Chicken, Onion, Green Chilli, Tomato
439
859
1439
CHICKEN CLASSIC
Spicy Chicken, Capsicum, Onion, Mushroom, Tomato, Black Olive
439
859
1439
SUPREME
Spicy Chicken, Chicken, Beef, Onion, Mushroom. Capsicum
439
859
1439
CHICKEN DELIGHT
Lebanese Chicken, Chicken Sausage, Capsicum, Tomato. Jalapeno, Black Olive
439
859
1439
KALA BHUNA DELUXE
Beef Kala Bhuna, Capsicum, Mushroom, Tomato
439
859
1439
SUPER SUPREMES Pizza Menu
Pizza
PERSONAL
MEDIUM
FAMILY
EEF SUPREMO
Beef, Beef Pepperoni, Mushroom
489
939
1609
MEAT LOVERS
Beef, Spicy Chicken, Chicken, Beef Pepperoni
489
939
1609
THE WORKS
Beef, Beef Pepperoni, Spicy Chicken, Chicken, Capsicum, Onion,Mushroom, Black Olive
489
939
1609
BBQ BLAST
Spicy Chicken Marinated in BBQ Sauce. Chicken Sausage. Jalapeno, Mushroom
489
939
1609
TRIPLE CHICKEN FEAST
Smoked Chicken, Spicy Chicken, Lebanese Chicken
489
939
1609
FAVORITES-CHEESY BITES Pizza Menu
Pizza
CHEESY BITES (MEDIUM)
CHEESY BITES (FAMILY)
BBQ CHICKEN
BBQ Chicken. Green Chilli. Sweet Corn .
1099
1639
BEEF LOVERS
Beef, Onion. Black Olive & Capsicum.
1099
1639
SPICY CHICKEN
Lebanese Chicken, Mushroom, Onion & Green Chilli
1099
1639
BEEF PEPPERONI
Beef Pepperoni, Mozzarella Cheese
1099
1639
SPICY KALA BHUNA
Beef Kala Bhuna, Tomato, Onion, Green Chilli
1099
1639
FAVORITES-SAUSAGE STUFFED CRUST Pizza Menu
Pizza
SAUSAGE STUFFED CRUST (MEDIUM)
SAUSAGE STUFFED CRUST (FAMILY)
BBQ CHICKEN
BBQ Chicken. Green Chilli. Sweet Corn .
1419
1909
BEEF LOVERS
Beef, Onion. Black Olive & Capsicum.
1419
1909
SPICY CHICKEN
Lebanese Chicken, Mushroom, Onion & Green Chilli
1419
1909
BEEF PEPPERONI
Beef Pepperoni, Mozzarella Cheese
1419
1909
SPICY KALA BHUNA
Beef Kala Bhuna, Tomato, Onion, Green Chilli
1419
1909
SUPREMES – CHEESY BITES Pizza Menu
Pizza
CHEESY BITES (MEDIUM)
CHEESY BITES (FAMILY)
BBQ BEEF
BBQ Beef, Capsicum, Onion, Green Chilli
1099
1749
BBQ TEMPTATION
BBQ Chicken, Tomato, Capsicum, Onion, Green Chilli
1099
1749
RED N HOT
Spicy Chicken. Beef, Onion, Tomato. Green Chilli
1099
1749
CHICKEN CLASSIC
Spicy Chicken. Tomato, Onion, Capsicum, Mushroom, Black Olive
1099
1749
SUPREME
Spicy Chicken, Chicken. Beef, Onion, Mushroom, Capsicum
1099
1749
KALA BHUNA DELUXE
Beef Kala Bhuna, Capsicum, Mushroom, Tomato
1099
1749
THE WORKS
Beef, Beef Pepperoni, Spicy Chicken, Chicken, Capsicum, Onion, Mushroom, Black Olive
1099
1749
CHICKEN DELIGHT
Lebanese Chicken, Chicken Sausage, Capsicum, Tomato, Jalapenos & Black Olive
1099
1749
SUPREMES-SAUSAGE STUFFED CRUST Pizza Menu
Pizza
SAUSAGE STUFFED CRUST (MEDIUM)
SAUSAGE STUFFED CRUST (FAMILY)
BBQ BEEF
BBQ Beef, Capsicum, Onion, Green Chilli
1529
2009
BBQ TEMPTATION
BBQ Chicken, Tomato, Capsicum, Onion, Green Chilli
1529
2009
RED N HOT
Spicy Chicken. Beef, Onion, Tomato. Green Chilli
1529
2009
CHICKEN CLASSIC
Spicy Chicken. Tomato, Onion, Capsicum, Mushroom, Black Olive
1529
2009
SUPREME
Spicy Chicken, Chicken. Beef, Onion, Mushroom, Capsicum
1529
2009
KALA BHUNA DELUXE
Beef Kala Bhuna, Capsicum, Mushroom, Tomato
1529
2009
THE WORKS
Beef, Beef Pepperoni, Spicy Chicken, Chicken, Capsicum, Onion, Mushroom, Black Olive
1529
2009
CHICKEN DELIGHT
Lebanese Chicken, Chicken Sausage, Capsicum, Tomato, Jalapenos & Black Olive
1099
1529
Pizza Hut Bangladesh Menu Card
Pizza Hut MenuPizza Hut Menu -1
Pizza Hut Manu – 2Pizza Hut Manu – 2
Pizza Hut Menu-3Pizza Hut Menu-3
Branch Address and Contacts
Pizza Hut Branches and Address in Bangladesh
Pizza Hut Gulshan
Rangs RD Square, Block: SE (F),
Plot: 03, Bir Uttam Mir Shawkat Ali Shorok,
South Avenue, Gulshan – 1, Dhaka- 1212.

Contact Number: 0255045745, 0255045745, 0255045747, 0255045748
Pizza Hut RM Center
House- 101( 1st Floor), Gulshan Avenue,
Gulshan – 2, Dhaka-1212.

Contact Number: 09613998822, 02-222299652, 02-222299653
Pizza Hut Dhanmondi
Plot # 754, Satmasjid Road,
Dhanmondi, Dhaka- 1205

Contact Number: 029114457, 0258153723, 0258153722
Pizza Hut Delivery Dhanmondi
Dr. Refat Ullahs Happy Arcade
House-03, Road-03, Dhanmondi, Dhaka

Contact Number: 09613999666
Pizza Hut Baily Road
3, New Baily Road, 10, Natok Sarani
Gold Hunt Shopping Complex, Dhaka.

Contact Number: 0248317265, 0248317099, 09613888444
Pizza Hut Uttara
Plot # 13, Sector # 13, Sonargaon
Janapath, Uttara, Dhaka-1230

Contact Number: 028991861, 028991862, 09613888555
Pizza Hut Delivery Uttara
H#06, Road#02, Ahmed Plaza (Ground Floor)
Sector-03, Uttara, Dhaka-1230

Contact Number: 0258955551, 0258955501, 09613 999111
Pizza Hut Uttara 6
Plot No: 1, Road: 13/C, Shah Jalal Avenue
Sector : 6 Uttara, Dhaka 1230

Contact Number: 09613772255
Pizza Hut Jamuna Future Park
Shop No: 5C – 013 (5th Floor)
Jamuna Future Park Complex Ka-244,
Kuril Pragati Sarani, Dhaka-1229

Contact Number: 01777768098
Source: Official Website