Shumi's Hot Cake Menu, Price and Stores
Last Updated on September 4, 2023
Shumi's Hot Cake Ltd. is a bakery and cake shop that specializes in creating and selling baked goods, particularly cakes and pastries. These shops offer a wide variety of sweet treats, such as cakes, cupcakes, cookies, bread, and other desserts.
Shumi's Hot Cake starts it's journey in Bangladesh in 1981 by introducing birthday cake. gradually, it has expanded its business in Dhaka and Chittagong with lot of food items.
In Shumi's Hot Cake, customers can usually choose from a range of pre-made items, or place orders for custom cakes and other baked goods. Custom orders can be tailored to meet the customer's specific needs and preferences, such as flavor, design, and size. Customers like to customize weddings, birthdays, and corporate gatherings cake.
Besides, Shumi's Hot Cake offers verities of snacks and cookies, and other verities items such as pizza, samucha, singara, pastry, biscuits, breads and many more items.
Whether you are in the mood for a sweet indulgence, or need a custom cake for a special event, a bakery and cake shop is the perfect place to satisfy your sweet tooth!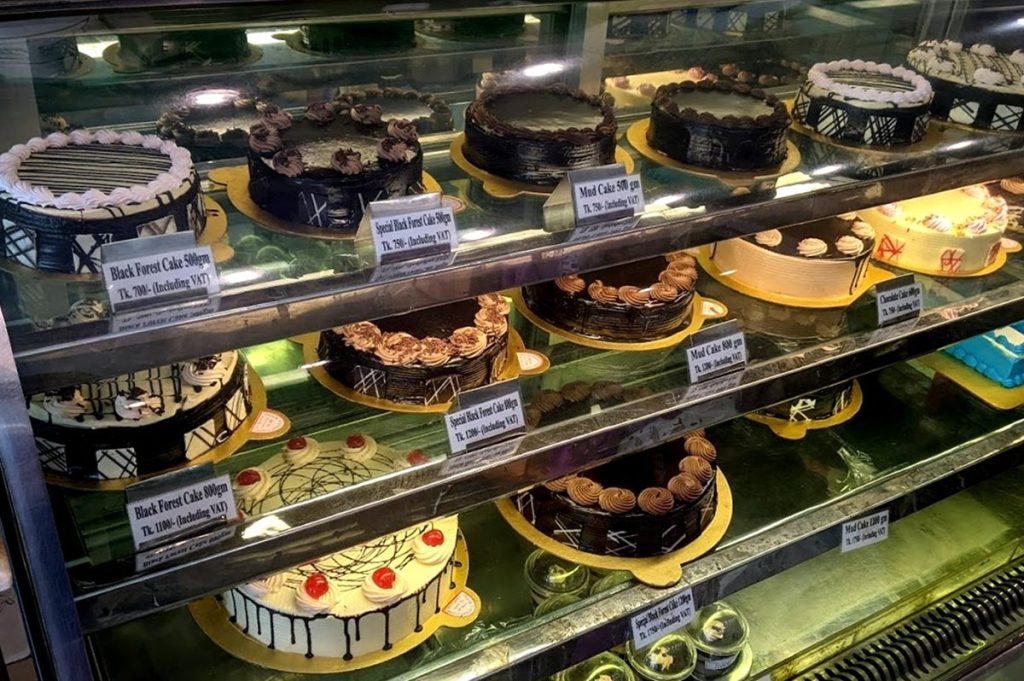 Menu
Shumi's Hot Cake Menu and Price have given below.
Cake Menu
Shumi's Hot Cake Menu and Price
15% VAT Included
Price Updated on 1st July 2022
Cake Item Name
Price
Vanilla Cake 600gm (Butter Cream)
900
Vanilla Cakel200gm (Butter Cream)
1800
Chocolate Cake 600gm (Butter Cream)
900
Chocolate Cake1200gm (Butter Cream)
1800
Black Forest Cake 500gm
800
Black Forest Cake 800gm
1250
Black Forest Cake1200gm
1900
Black Forest Cake] 500gm
2400
Special Black Forest Cake 500gm
850
Special Black Forest Cake 800gm
1350
Special Black Forest Cake1200gm
2000
Special Black Forest Cake1500gm
2550
Mud Cake 500 gm (Chocolate Ganache)
850
Mud Cake 800 gm (Chocolate Ganache)
1350
Mud Cake 1200 gin (Chocolate Ganache)
2000
Mud Cake 1500 gm (Chocolate Ganache)
2550
Chocolate Chips Mud cake 500gm
950
Chocolate Chips Mud cake 1000gm
1910
Mousse Cake 500gm
950
Rainbow Cake 600gm
(Butter cream, Whip cream)
1200
Premium Vanilla Cake 500 gin (Whip Cream)
850
Premium Vanilla Cake 1000 gm (Whip Cream)
1700
Premium Strawberry Cake 500 gm (Whip Cream)
900
Premium Strawberry Cake 1000 gm (Whip Cream)
1800
Premium Blueberry Cake 500gm (Whip Cream)
900
Premium Blueberry Cake1000gm (Whip Cream)
1800
Choco Delight Cake 500 gm (Whip Cream)
900
Han] Nut Ganache Cake 500gm
950
Brownie Cake 500gm
750
Salted Caramel Cake 500gm
950
Butterscotch Caramel Cake 500gm
950
Blueberry Cream Cheese Cake 500gm
(Whip Cream, Cream Cheese)
1000
Strawberry Cream Cheese Cake 500gm
(Whip Cream, Cream Cheese)
1000
Tiramisu Cream Cheese Cake 500gm
(Whip Cream, Cream Cheese)
1000
Red Velvet Cream Cheese Cake 500gm
(Whip Cream, Cream Cheese, Strawberry Filling)
1000
Pistachio Cake 500gm (Butter Cream)
900
Baked Cheese Cake 500gm
1150
Red Velvet Cake 500gm (Butter, Cheese Cream)
950
Tiramisu No Bake Cheese Cake
1100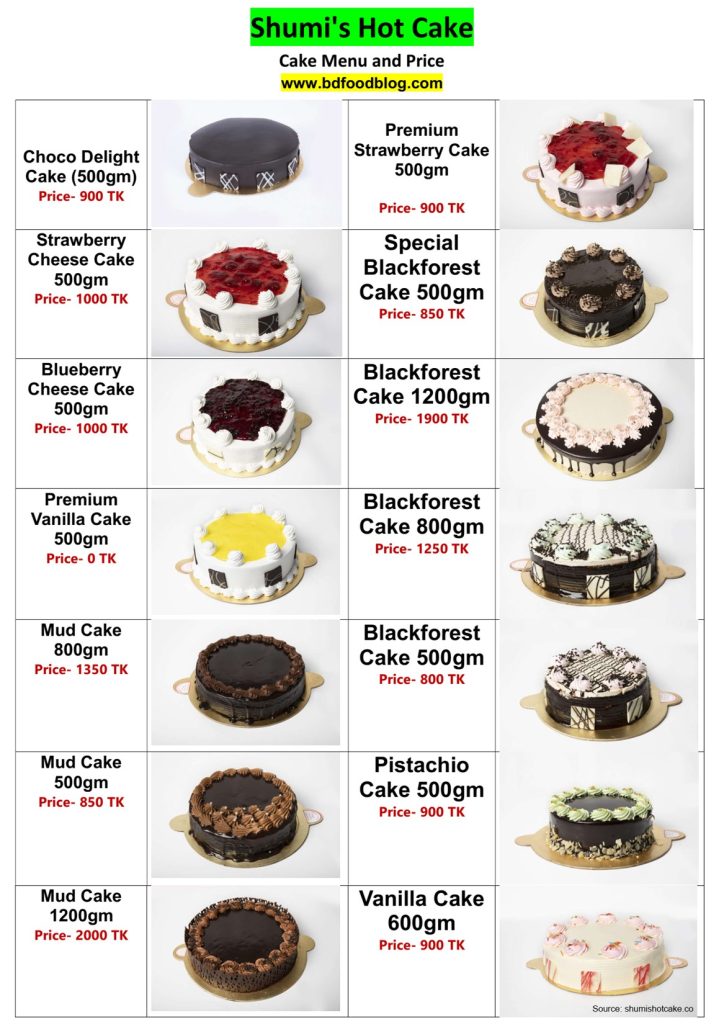 Snacks & Bakery Menu
Shumis Hot Cake Snacks ItemsShumis Hot Cake Snacks Items
Shumi's Hot Cake Bakery, Snacks and Others Menu
15% VAT Included
Price Updated on 1st July 2022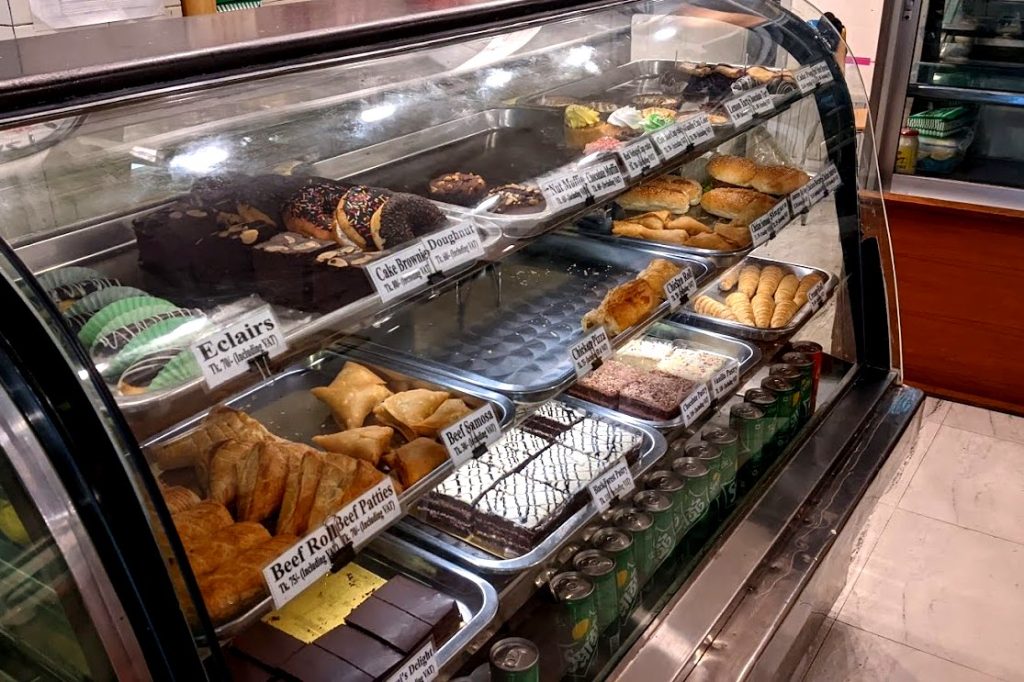 | | |
| --- | --- |
| Item Name | Price |
| Singara | 25 |
| Beef Samosa | 30 |
| Chicken Samosa | 30 |
| Cream Roll | 40 |
| Dinner Roll | 40 |
| Kolija Singara | 40 |
| Cheese Samosa | 40 |
| Chicken Cheese Samosa | 40 |
| Black Forest Delight | 50 |
| Egg Patties | 50 |
| Beef Bun | 50 |
| Chicken Bun | 50 |
| Sausage Roll | 50 |
| Beef Chop | 50 |
| Vegetable Roll | 50 |
| Chicken Wings | 50 |
| Mix Chicken Roll | 50 |
| Cake Pop | 60 |
| Chocolate Muffin | 60 |
| Fruit Muffin | 60 |
| Nut Muffin | 60 |
| Vanilla Muffin | 60 |
| Doughnut | 60 |
| Jam Roll (Per Piece) | 60 |
| Chicken Star | 60 |
| Chicken Patties | 65 |
| Vanilla Cup Cake | 70 |
| Chocolate Cup cake | 70 |
| Red Velvet Cup cake | 70 |
| Blueberry Muffin | 70 |
| Strawberry Muffin | 70 |
| Croissant | 70 |
| Eclairs | 70 |
| Danish | 70 |
| Beef Patties | 70 |
| Sausage Roll Cheese | 70 |
| Sausage Roll (Round) | 70 |
| Chicken Roll | 70 |
| Chicken Curry Puff | 70 |
| American Hot Dog | 70 |
| Croissant Chocolate | 75 |
| Beef Roll | 75 |
| Beef Curry Puff | 75 |
| Chicken Pizza | 75 |
| Cake Brownie | 80 |
| Shumi's Delight | 80 |
| Croissant Cheese | 80 |
| Croissant Almond | 80 |
| Bread (400 gm) | 80 |
| French Bread | 80 |
| Beef Pizza | 80 |
| Chicken Fry | 80 |
| Chicken Sandwich | 80 |
| Croissant Sandwich (Chicken) | 80 |
| Rich Chocolate Brownie | 90 |
| Red Velvet Brownie | 90 |
| Chicken Burger | 90 |
| Beef Burger | 90 |
| Mousse | 100 |
| Macaroons | 100 |
| Lemon Tart | 100 |
| Chocolate Tart | 100 |
| Biscuit per piece (Large) | 100 |
| Hunter Beef Sandwich | 100 |
| Club Sandwich | 100 |
| Croissant Sandwich (Beef) | 100 |
| Red Velvet Pastry | 110 |
| Vanilla Pastry | 110 |
| Chocolate Pastry | 110 |
| Black Forest Pastry | 110 |
| Mud Pastry | 110 |
| Brown Bread (400gm) | 120 |
| Baked Cheese Pastry | 170 |
| Dry Cake 300gm | 220 |
| Sweet Biscuit 300gm | 220 |
| Salted Biscuit 300gm | 220 |
| Nut Cookies 300gm | 220 |
| Coconut Butter 300gm | 220 |
| Vanilla Anarkoli 300gm | 220 |
| Chocolate Anarkoli 300g | 220 |
| Butter Cookies 300gm | 220 |
| Toast Biscuit | 220 |
| Chocolate Chip Biscuits 300 gm | 250 |
| Cherry and Nut Biscuits 300 gm | 250 |
| Oat Raisin Nut Cookies 300 gm | 250 |
| Chocolate Fudge Biscuit 300 gm | 250 |
| Crisp Puff Pastry Biscuit 300 gm | 250 |
| Whole Meal Biscuit 300 gm | 250 |
| Plain Cake 400gm | 250 |
| Pineapple Cake | 250 |
| Banana Cake | 250 |
| Lemon Cake | 250 |
| Blueberry Jamroll | 250 |
| Chocolate Jamroll | 250 |
| Strawberry Jamroll | 250 |
| Marble Cake 400 gm | 300 |
| Fruit Cake 400gm | 300 |
| Chocolate Moist Pound Cake | 300 |
Menu Card (Official)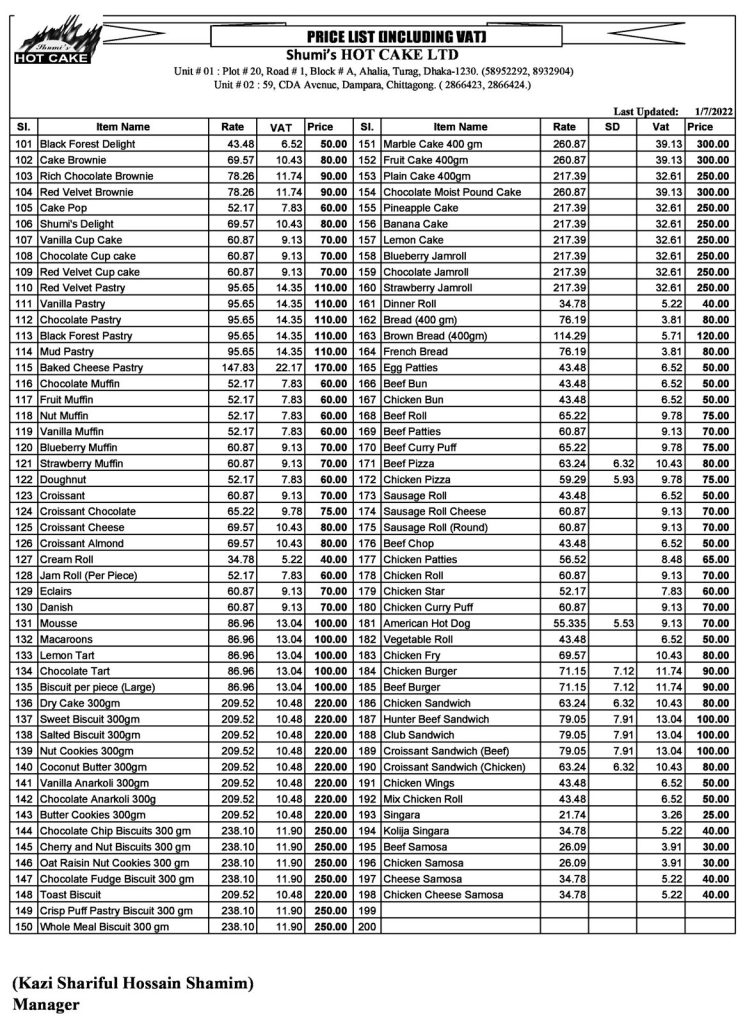 Stores
Store's Address and Contacts
Shumi's Hot Cake has several stores in Dhaka and Chittagong. List of their branches with contact number has given below.Store AddressPhone No
8 J & J Mansion,
Sobhanbagh, Dhaka.
01701-202244, 02-48110993
(Baker's Basket) Panthapath, Dhaka.
01701-202212, 02-8142150
House-50, Rd-11,
Block-F, Banani, Dhaka
01701-202211, 02-55042123
1, Baily Road,
(Natok Sharani), Dhaka.
01701-202255, 02-58315876
5. Rupayan Center,
72, Mohakhali C/A, Dhaka
01701-202227
16, Bir Uttam C.R. Dutta Road,
Hatirpul Bazar.Dhaka.
01701-202220, 02-9614590
1/2, Chandi Charan Bose Street,
Wari, Dhaka.
01701-202235, 02-9512033
401/A, Khilgaon, Dhaka
01701-202224, 02-55122520
Holding No-08,
Plot-20 B/A
DIT Rd Malibhag Chowdhury Para, Dhaka
01701-202230, 02-8322310
Bashundara Rd, Badda Dhaka.
01701-202214, 02-8411479
Spring Rahmat-e-Tuba Complex,
Plot-132, Road-2,
Section-12, Mirpur, Dhaka
01701-202226, 02-9034943
House-6, Ishakha Avenue,
Sector-6, Uttara.
01701-202234
House-19, Road-02,
Mohammadi Housing Society,
Mohammadpur, Dhaka.
01701-202228
Shop-104, Holding-21/1,
Hoque Mansion,
Jigatola, Dhaka.
01701-202236
Plot-2/1, Road-3, Block-A,
Lalmatia,
Mohammdpur, Dhaka
01701-202225
House-2, Road-6, Block-D,
Bonosree, Rampura,
(Beside Global Ideal School & College)
Dhaka-1219
01701-202213
House-121/D, Road-44,
Gulshan-2, (Beside Gulshan Thana),
Dhaka-1212
01701-202217
Shop-101, Kunja-02,
572 Manikdi,
Dhaka Cantonment.(ECB Chattar), Dhaka
01701-202215
Shop-78, Tejkunipara, Tejgoan,
Dhaka. (Farmgate)
01701-202216
Road-10, House-1,
Shop No.-7,
Altaf Plaza, Dhanmondi,
Dhaka. (Kolabagan)
01701-202223
Y-14/C, Taj Mahal Road/ Razia Sultana Road
Mohammadpur, Dhaka-1207
01701-202231
Shop No. 21, Holding No. 34/49
Sagufta, DOHS Road, Mirpur, Dhaka
01701-202229
Holding-6, Rd-2,
Sector-3, Uttara, Dhaka
01701-202232
House-380, Rd-955, Block-B,
Khilgoan Taltola, Rampura, Dhaka.
01701-202238
360 Elephant Road, Dhaka.
01701-202218
284 Khan Mansion,
Shop-02, Pullpar,
Ibrahimpur, Kafrul, Dhaka -1206
01701-202221
House-55, Sector-7,
Sonargaon Janapath Road,
Uttara, Dhaka.
01701-202219
House-18, Sector-7,
Lake Drive Road,
Uttara, Dhaka
01701-202237
59, C D A Avenue, Dampara,
Chittagong.
(Opposite Soudia Bus Counter)
01701-202240, 031-2866424
House-1, Lane-1,
Block-K, Halishohor Housing Estate,
Chittagong.
01701-202241
Concord Khulshi Town Center.
Shop no. 103 (Ground Floor)
Zakir Hossain road,
Khulshi, Chaittagong
01701-202242
59/87 Islam Tower,
C D A Avenue,
Muradpur, Chittagong
01701202239
JS Tower Dider Market,
Nawab Sirajudawla Road,
Kotawali, Chittagong
01701202243
352/A, Road No-27
Dhanmondi, Dhaka-1209.
01701-202246
750/A, Monipur
Mirpur-2, Dhaka
01701-202250
Shop No: 1, 92 New Eskaton,
Ramna, Dhaka.
01701-202251
House No-18, Sector-7,
Lake Drive Road,
Uttara, Dhaka
01701-202237
JA Bhaban 161,
Sayed Nazrul Islam Sarani,
8 Purana Paltan, Dhaka
01701-202245
Shumi's Hot Cake Interior Photo